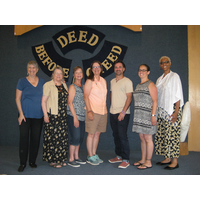 Former Peace Corps Volunteers, all members of the Returned Peace Corps Volunteers of Long Island, will talk about their experiences as volunteers, telling what motivated them to join, what they did in their country of assignment, lessons learned and how the experience impacted their lives. The gathering will be held on Sunday, June 30 from 11 am to noon at the Ethical Humanist Society of Long Island, 38 Old Country Road, Garden City.
Panel members are Bette Bass of Massapequa (Ethiopia 1966-69); Kathy Williams-Ging of Huntington Station (Peru 1971-73); Mary Watros of Huntington Station (Dominican Republic 1985-1988); Bradley Broder of Manhattan (Kenya 1999-2001); and Christina Gasiewski of Deer Park (Grenada 2004-2006). Westbury's Lyn Dobrin (Kenya 1965-67) will moderate.
Since the founding of the Peace Corps in 1961, more than 235,000 Americans have served as volunteers in 141 countries. The mission of the Returned Peace Volunteers of Long Island is to use the knowledge and skills they learned as Peace Corps Volunteers to help Americans understand the people and cultures of other countries.
The Ethical Humanist Society is located at 38 Old Country Road in Garden City, between Mineola Avenue and Herricks Avenue. There is no charge. For information call 516-741-7304.
---